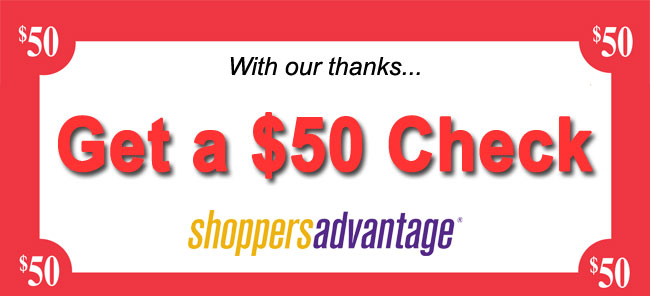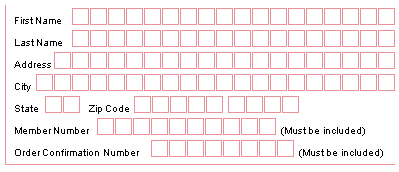 Please complete and return this $50 Credit Voucher* to receive your $50 check good to cash or apply to your credit card account, compliments of Shoppers Advantage®.
1) Print this rebate form.
2) Place your order by calling 1-800-TEL-SHOP®, or log onto www.shoppersadvantage.com, 24 hours a day, 7 days a week.
3) After you order, you'll receive an Order Confirmation Number.
4) Enter your Order Confirmation Number on this rebate form in the appropriate boxes and complete the form. Please print clearly using blue or black ink.
5) When your order arrives, mail this completed form to: Shoppers Advantage, Fullfillment Department, P.O. Box 390 Trumbull, CT 06611.
6) We will issue a $50 credit to the credit card account you used to make your purchase.**

Limit one coupon per purchase.
* You may use your coupon on any single purchase. Cash back amount shall not exceed purchase price, including shipping and handling.

** Credits for check or money order purchases will be made by rebate check.

Excludes all Art for Less, NetGrocer, Proflowers, American Blind and Wallpaper Factory, Barewalls.com, Ashford.com, and Pet Food Direct purchases.

Offer has no value except when redeemed in accordance with these terms and conditions. Offer is void with any other offers, promotions or coupons and is nontransferable. Offer is void if altered, counterfeited, obtained or used improperly. This offer is valid only during the months specified. No facsimiles of the form will be accepted. Please allow 6 – 8 weeks for processing. Offer expires 12/31/2016. Shoppers Advantage is a service provided by Trilegiant Corporation, which may modify or improve any part of the service at any time and without prior notice. Shoppers Advantage is a registered service mark of Affinion Publishing, LLC.
Nontransferable. To receive your cash back, you must be an active Shoppers Advantage member at the time of purchase.

© 2014 Trilegiant Corporation
SHPEMPGENR50